5:56 p.m. Update
Payment Worries: 1 in 3 Canadians fear they'll miss a rent or mortgage payment (Survey.) If you're one of them, here's an updated list of lender links for payment deferral info.
Appraisal Stop-gap: More lenders are announcing that they will accept "Modified Full Appraisals." That's where appraisers do virtual inspections of the property with the homeowner's help, using tools like FaceTime, WhatsApp or Skype. Screenshots of those videos are then used in the appraisal report.
HSBC Hikes Most Rates: Online mortgage leader HSBC has lifted the following rates:

5yr fixed special (HR): 2.29% to 2.49%
10yr fixed special: 3.04% to 3.24%
5yr variable special (purchase/switch): 2.74% to 3.05%
5yr variable special (refi): 2.84% to 3.15% (prime + 0.20)
5yr posted variable: 3.05% to 3.15%
HELOC: 2.95% to 3.45%

Quite the hefty increase. Fortunately, Tangerine still leads all HELOC rates at 2.85% (prime – 0.10%)

HSBC also tossed a cut in there, dropping its 2-year special from 2.64% to 2.54%.

Stubborn Spreads: Credit spreads in the mortgage market (i.e., how much more banks pay for funding than the federal government) keep increasing. That's despite epic liquidity support from Ottawa and Washington. The spread between banks and government remains near crisis highs. That's keeping the uptrend in mortgage rates alive.
Alberta Oil Woes: Today brought more devastation in WCS oil (Alberta's oil price benchmark). It plunged to its lowest point on record, $6.45. Most producers are not profitable at roughly 3 times that number. Capital Economics' Stephen Brown estimates the weighted average break-even point at somewhere near $17 a barrel on WCS crude. That's for existing oil projects. New projects are much higher. If prices remain this depressed, it'll erase an untold amount of jobs and business investment. You can bet your stimulus cheque that the Bank of Canada would weigh that heavily in its next rate decision.
Going vertical: The latest COVID-19 chart from StatNews.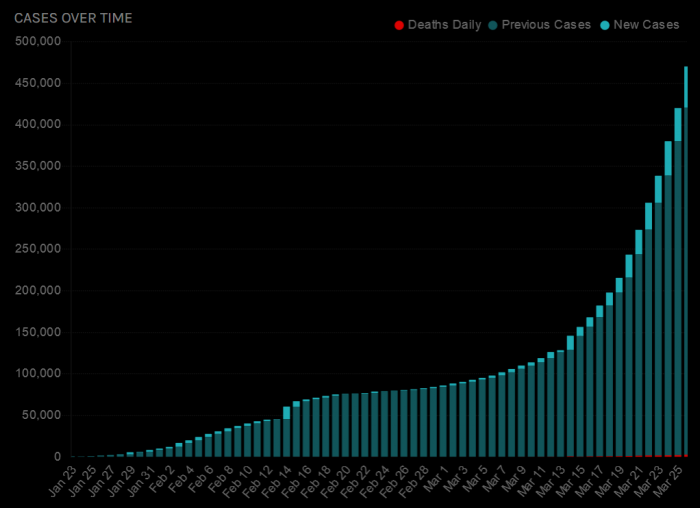 On People's Minds: Here's a look at the biggest increases in Google mortgage searches, as of yesterday. See any trends?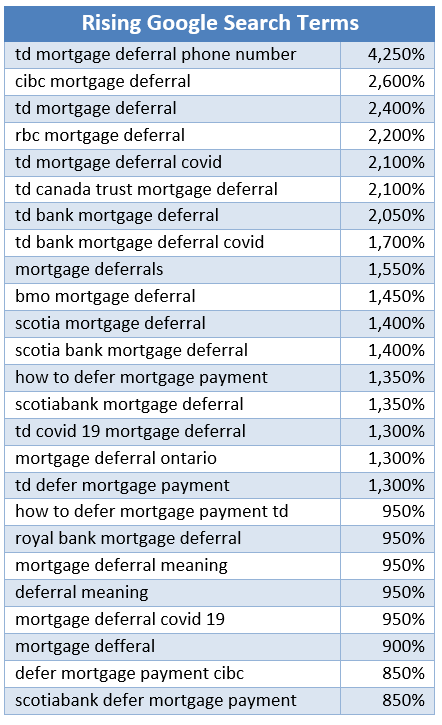 9:48 a.m. Update
Term Shift: The optimal mortgage term changes with the wind these days, and the wind has changed. Whereas variables were delectable at prime -1.20% or better just weeks ago, now not so much. With nationally available conventional 5-year fixed rates as low as 2.49% and the lowest variable at 2.59% (prime – 0.36%), the risk/reward of variables isn't as compelling (see: sample scenario). That is, unless it takes the Bank of Canada 2+ years to gradually hike rates again. Mind you, this is based on hypothetical rate scenarios. There are many other fixed vs. variable factors to consider, including the lower potential penalty risk in a variable, the ability to lock in a variable later, etc.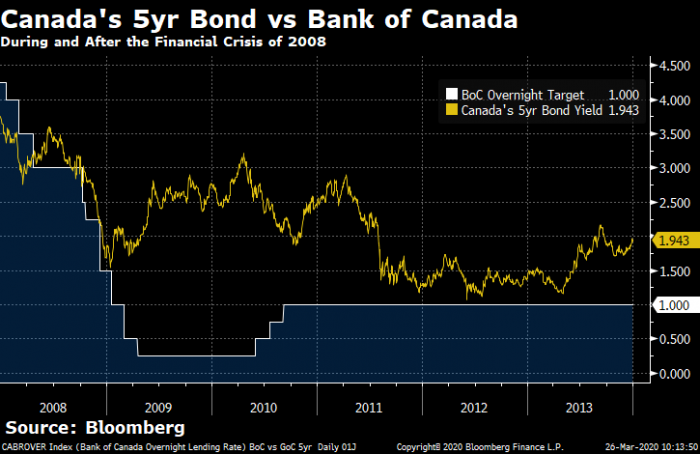 TD Hikes: Big-bank pricing increases have been relentless. TD Canada Trust just raised the following special fixed rates:

3yr: 2.89% to 3.09%
5yr (conventional) 2.94% to 3.24%
5yr (high ratio): 2.79% to 2.99%
The bank also removed its special 5-year variable rate of 2.95% and raised its posted 5yr variable from 3.10% to 3.15% (i.e., TD mortgage prime + .05% or actual prime + 0.20%).
---

---