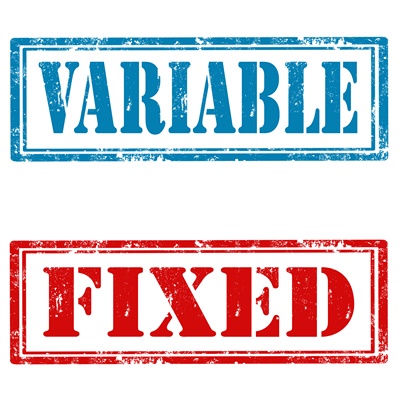 Rate Conversions: Now Over-rated: Today's best variable rates give borrowers a half-point head start versus a 5-year fixed. If one assumes the latest widely-held rate forecasts are correct (see below), prime – 0.35% or better variables still have a projected edge based on interest cost alone. And many are still willing to make that bet despite rate discounts being 50+ bps worse than in February. They're doing so on the assumption they can lock into a fixed rate anytime. But while that optionality is theoretically valuable, this rate cycle is different. With Canada's overnight rate near the zero bound, chances are small that anyone will lock their variable into a fixed rate that's below their starting rate. That, on top of slippage costs (how much you lose when locking in due to your lender's poor conversion rate) and the cost of bad timing (how much you lose because you locked in too late, which most do) makes any rate-lock strategy a poor reason to go variable in this climate.
Muted Rate Hikes: The Bank of Canada will hike just 1/2-point between now and the third quarter of 2022, according to the latest economist survey from Bloomberg. If rates theoretically rose double that estimate (i.e., 100 bps) and then held flat for the remainder of the next five years, here's how today's lowest nationally available conventional 5-year rates would fare against each other:

5-year fixed: 2.69%
5-year variable: 2.35% (prime – 0.10%)
Winner: 5-year fixed

One would save about $1,200 of interest per $100,000 of mortgage balance, assuming a 25-year amortization and a mortgage carried for the full 5-year term without changes.

Exception: If you're able to save an extra 1/4-point on your variable rate, fixed and variable are a wash, given the above assumptions.
The takeaway: If you're suited to a variable and can find one for better than prime – 0.35%, it's an okay bet given that rates should stay reasonably low post-recession.

Room to Drop: This week we saw multiple big banks lower fixed rates. And there's room for more. Until we get another flare-up in credit risk, the most competitive uninsured five-year fixed rates should move closer to the 5-year swap rate (a common benchmark for lender funding costs) plus ~150 bps. Someday we'll get back to normal: 5-year swap plus 100 bps or so. For now, however, the trend implies we could see conventional 5-year fixed rates dip at least 20 more basis points (under 2.50%), if funding costs don't shoot much higher. Few would have expected that a month ago. At the time, spooked investors were forcing banks to pay far more for their funding. Since then, the Bank of Canada, Finance Department and CMHC have committed to buying hundreds of billions in money market instruments, bonds and mortgage securities, putting a lid on rates.
Reverse Mortgage Records: Reverse mortgage provider Equitable Bank (EQB) is seeing record application volumes. It notes that, unlike its competitor HomeEquity Bank, "Our LTVs have not been reduced nor have we adjusted other adjudication standards." Equitable now supports e-signing of all documents, accepts independent legal advice by video chat, is verifying ID remotely and is instructing appraisers to take pictures of interiors "through windows" with the borrower's consent. The latter is due to the coronavirus limiting full appraisals.
Reverse Rates at Lows: "…We've never seen [reverse mortgage] rates this low," says Equitable Bank VP of Prime and Reverse Mortgage Lending, Paul von Martels. "The differential between these rates and historical rates means an average borrower will save $40k+ in interest. More and more, reverse mortgage clients are researching their options and rate is often the first thing being compared."
Largest GDP Drop Ever: That's what the top economies will see this month, says the OECD. As for Canada, Capital Economics predicts "a 5.3% drop in GDP for 2020 as a whole." It optimistically forecasts "GDP to rise strongly in 2021 and 2022, by 4.8% and 3.0%, respectively, but warns "that will not be enough to get the economy back to its pre-2020 trend." Capital Economics suggests the Bank of Canada's policy rate will "be firmly stuck at 0.25%" beyond 2022.
Former Fed Chair Bernanke: "I don't think it's going to be a rapid [recovery]…We'll probably have to restart activity fairly gradually and there may be subsequent periods of slower activity again…If anything, disinflation (low inflation) will be more of a concern in the next year than too high inflation." Deflation is a serious threat.
e-Proof of Income: Job letters are a slow, hassle-prone means of proving income for a mortgage. CRA says it's completed a "proof of concept" with financial institutions to send "proof of income" data directly to lenders. Were that system in place in this COVID-19 environment, it would considerably speed up the mortgage fulfillment process. For consumers' sake, CRA should re-double its efforts on this project post-COVID.
Wise or Too Radical? Here's one lender's out of the box proposals on how to save Canadians billions in interest. Among his ideas, there's some logic to freezing credit reporting for 12 months, although it would unduly give many a free-pass to ignore bills, to the detriment of creditors. On the idea of default-insuring refinances, that would lower refinance rates (both upfront and significantly on mid-term refinances for non-bank lenders). Insured refis would also improve access to refinancing before maturity at non-deposit taking lenders, which are essential bank competitors. Today, many non-bank lenders have limited ability to offer exceptional refi rates to people who break their mortgages early. The reason: they're not able to securitize refis because the government stopped insuring them. Policymakers have already temporarily allowed refinances to be insured as part of their COVID measures. But only refinances that closed by March 20, 2020 qualify. We hear they may extend that date. As for eliminating the stress test, regulators have shown little desire to entertain that.
---

---