The Mortgage Report – June 10
Dot Dot Dot Plot: The U.S. Federal Reserve, which sways Canadian rates more than many realize, was more pessimistic than expected in its rate announcement today. It's "Dot Plot" (the Fed's official rate forecast) now projects no rate hikes for 2020, 2021 and likely 2022. It's unlikely Canada deviates much from the Fed's path given our dependence on the U.S. economy. Hence, this is variable-friendly news, albeit always subject to change.
False Alarm: Canadian bond yields dropped after the Fed's statement today. That could be near-term bearish for fixed mortgage rates. The yield spike we saw last week left many wondering if rates were already pricing in a recovery. At some point they will and yields will surge, perhaps on legitimate news of a vaccine. In the meantime, we're not coming out of the woods just yet, so 5-year fixed rates could potentially edge lower.
Fix or Float: Rates.ca ponders the risk-reward of fixed versus variable, given record-low rates.
CIBC cuts: The bank reduced several fixed rates:

Advertised specials

5yr: 2.97% to 2.82%

A largely irrelevant rate with the likes of HSBC at 2.29%

7yr: 3.17% to 3.07%

Posted fixed rates:

3yr: 3.79% to 3.69%
5yr: 5.04% to 4.94%

No impact on the stress-test rate

7yr: 6.10% to 6.00%
10yr: 6.29% to 6.19%

National Bank cuts: Quebec's #1 bank lowered the following advertised fixed-rate specials:

4yr: 2.94% to 2.84%
5yr: 2.99% to 2.89%

Same as above; sheerly irrelevant, other than as a reminder that the trend with bank rates is down

Glass Ceiling for Fixed Rates: The BoC is buying $5+ billion of (mainly) government bonds each week, and "will continue to do so until the economic recovery is well underway," it says. It's focused on government bonds "because that market sets the baseline for the entire fixed-income market. For instance, the yields of five-year Government of Canada bonds are an important determinant of five-year fixed mortgage rates." (Source)
Mortgagors by Occupation: Some of the hardest-hit industries have the lowest percentage of households with mortgages. Check out this terrific analysis by National Bank Financial. (Source)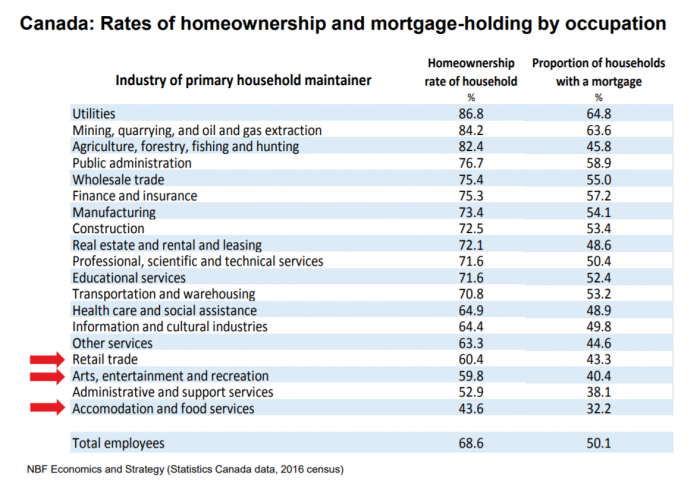 10% Drop: That's National Bank's approximate forecast for how much Canada's typical home price will fall (from peak to trough, based on the Teranet-National Bank National Composite House Price Index. That's "sharper than any of the country's last three recessions," it says, largely because falling rates won't save us this time. It adds that potentially 10% of people deferring mortgages could default (not pay after their deferrals end). That's too big of a problem for the government not to do something about it.
Most Jobs Return: "Most" may not be overly reassuring, but most (68%) of lost jobs since February will be recovered by August, estimates Capital Economics.
HELOC Cash on Tap: "65% of the funds authorized through HELOCs have not been used," says the Bank of Canada. "This amounts to $310 billion, or roughly 20%, of households' disposable income."
---

---