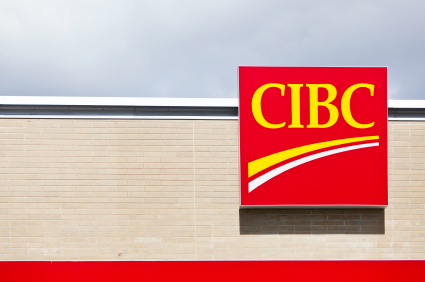 —The Mortgage Report: Sept. 10—
CIBC has dropped the following special fixed rates:
It's the first time ever that a Big 6 Canadian bank has widely and openly advertised a 5-year fixed rate under 2%, albeit it's only on default-insured mortgages.
This development is more symbolic than anything else. Reason being, banks have offered unpublished 5-year fixed rates for weeks now. And smaller lenders like HSBC, brokers, etc. have advertised 1.99% or less since June.
The Big 6 almost always take their time on rate drops, given they:

Have a never-ending stream of business regardless
Want to maximize profit margins
Are hesitant to reset (lower) rates on mortgages in their pipeline — i.e., mortgages that are already approved at higher rates

In this particular case, the rate-drop delay is also the product of heightened credit risk thanks to a little predicament called Coronavirus.
For those who have a CIBC bank account, or don't mind opening one, the bank is still offering $1,000 to $3,000 cash back. The offer applies to purchases and transfers, and can be like getting an extra 8-10 bps off the rate depending on the mortgage amount.
CIBC also trimmed its special 5-year variable rate from 2.03% to 1.93% (prime – 0.52%).
Don't Expect Canada's Rebound to Continue at this Pace: BoC
Bank of Canada head Tiff Macklem reminded people this week of Canada's "exceptionally severe" economic downturn, with GDP posting its "sharpest drop on record."
The economy has "bounced back…a little more strongly…than we were expecting," he said. But "We don't expect the strong rebound we've seen to continue at the same pace in the months ahead."
We're facing structural unemployment and the reality that certain business investment (e.g., in the oil patch) may never come back, Macklem added. As a result, "extraordinary monetary policy support"—and a 0.25% overnight rate—will likely be with us for several quarters.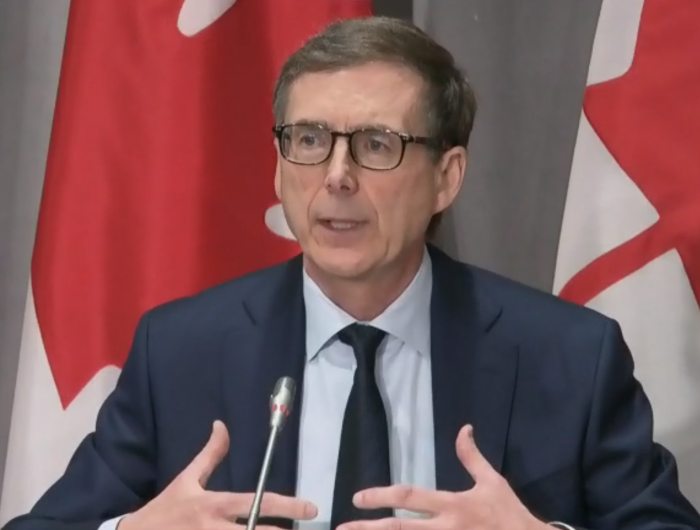 Macklem: No Fan of MMT
Modern Monetary Theory (the idea that deficits almost don't matter for governments that can finance themselves by creating more currency) has a "superficial veneer of legitimacy," says Macklem. "When you look at MMT, there's really no evidence in history that it's worked. In fact, when monetary policy has been directed to supporting government deficits and underwriting the government, it's ended badly. So…I'm not a big fan."
That's probably not enough to stop free-spending politicians from running up government debt, however. Borrowers in variable or short-term rates should keep that in mind given that extreme deficits are usually bullish for rates once a recovery takes hold.
The more that credible sources like Macklem fight MMT, the better the chance that rates will stay lower for longer.
Safeguarding Your Gift
Mega-Banks Still Dominate
Big 6 Banks originate two out of every three new mortgages, reports CMHC. But subprime lenders (specifically, private and mortgage investment corporation lenders) issue the biggest mortgages on average—and have the highest interest rates and the highest delinquencies.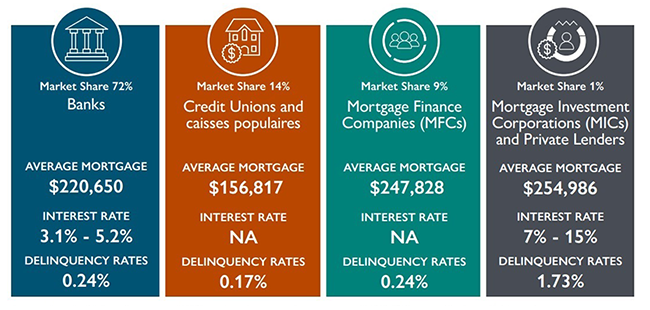 Lender Retention Increases
As the chart below shows, lenders were holding onto more of their customers at renewal (as of March 31, 2020). "Renewals with the same lender increased by 11% relative to the previous year and accounted for more than half of all extended loans," writes CMHC.
Part of the reason has been lenders competing aggressively to retain business amid slower originations. There may have also been a small COVID effect near the end of March, with borrowers less likely to go out to shop for a mortgage, and unemployed borrowers less likely to qualify elsewhere.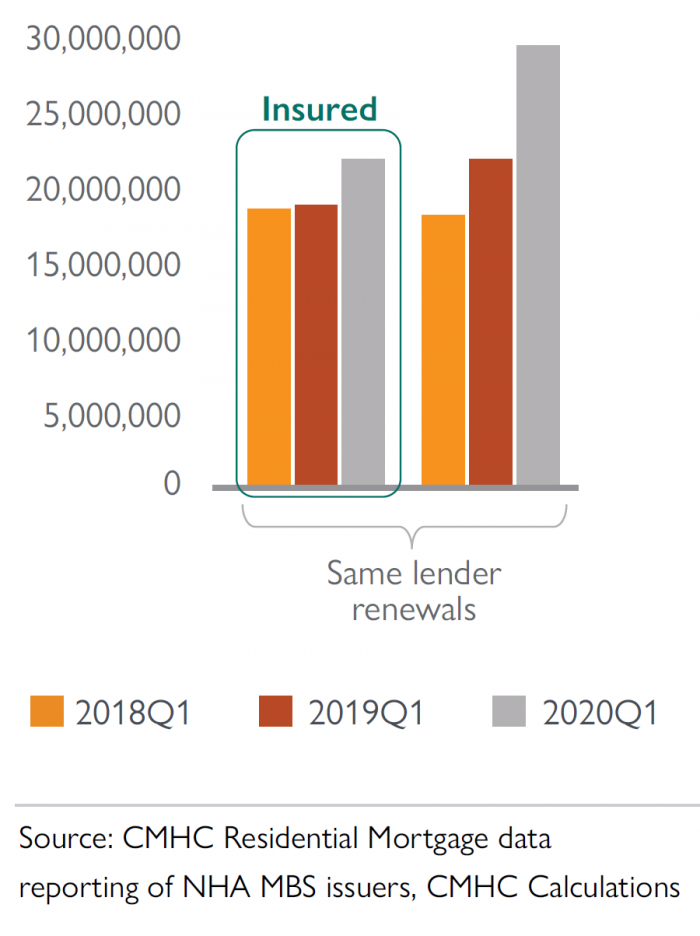 ---

---