The Mortgage Report – June 5
Big Drops from HSBC: The online mortgage juggernaut keeps shaking competitors' trees. This time with Canada's lowest bank-advertised 5-year fixed rate ever, according to our records. It's also the first bank to crack the 2% barrier on a 5-fixed, albeit it's for default-insured mortgages only. HSBC's move not only reflects historically low funding costs, but its continued drive to brand itself as Canada's most competitive lender. The likes of RBC, TD, Scotiabank, BMO and CIBC could easily undercut this rate if they wanted to, but they likely won't near-term. Here's more on this record-breaking rate and a look at what other rates HSBC trimmed:

Posted fixed rates:

1yr: 2.69% to 2.49%
4yr: 3.49% to 3.24%

Variable rates:

5yr (high ratio): 1.85% to 1.75% (prime – 0.70)

We're getting closer to prime – 1.00% every day. It's coming. For now, this is Canada's lowest rate for insured borrowers who want to float their mortgage.

5yr: 2.15% to 2.05% (prime – 0.40)

This is Canada's lowest lender-advertised variable for conventional mortgages and refinances.

RBC cuts: Big blue lowered the following rates, but as usual actual big bank mortgage rates are much lower than advertised.

Special fixed rates:

3yr: 2.74% to 2.64%
4yr: 2.74% to 2.69%
5yr: 2.99% to 2.89%
7yr: 3.49% to 3.39%

Special variable rate:

5yr closed: 2.45% to 2.40% (prime – 0.05)

The only reason this sub-par rate is relevant is because it symbolizes improving floating-rate pricing. RBC hiked this rate to prime + 0.25% seven weeks ago. But now COVID-related funding pressures have eased and pricing is slowly getting back to normal.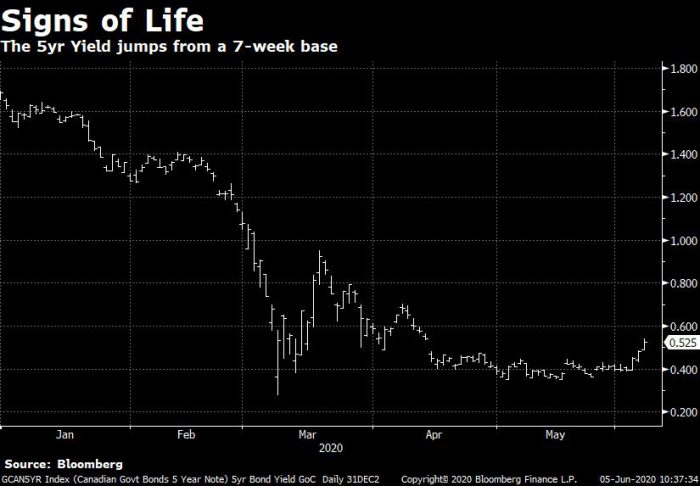 Bright Ray of Hope: Canada's 5-year government yield is climbing on the back of surging economic optimism and a much stronger-than-expected jobs report. The market expected half a million lost jobs, but Canada posted an estimated 289,600 gain. U.S. employment gains vastly surpassed expectations as well. If this march higher in yields continues into the 0.60% or 0.70% range, we could see the lowest 5-year fixed rates jump at least 5 to 10 basis points. If this is a longer-term bottom for yields (which no one can predict but many will speculate on) then today's 5-year rates in the low-2s are a bargain for people who must lock in.
Reality Check: "…It is still likely to take years for the labour market to fully heal," says Capital Economics. Rates might lift off for weeks or months—along with recovering employment—but they'll likely remain historically low longer-term.
Speaking of Locking In: CMHC says an overwhelming 96.6% of default-insured borrowers chose a fixed rate in the first quarter.
Posting Too High: Posted 5-year fixed rates are still massively inflated with the typical big-bank posted rate 100 bps above its long-term average, relative to bond yields. That matters for two reasons:

It keeps the minimum stress test rate artificially high, reducing the mortgage amount that otherwise-qualified borrowers can get

Some say that's good in a riskier housing market. Others disagree, saying it's a drag on the economy to shut out borrowers because of arbitrarily high interest rates.

It makes fixed-rate IRD penalties bigger if you break your mortgage early to sell or refinance

The reason: High posted rates create a falsely large "discount." The top 10 banks use that discount from posted rates against you in their penalty formulas.
---

---