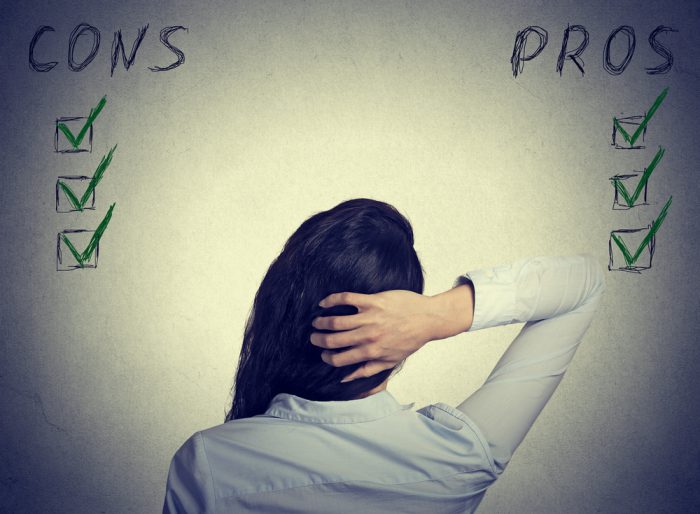 —The Mortgage Report: July 9—
Play Stocks or Play it Safe?: That's a common question for otherwise debt-free mortgagors with nothing else to do with their money. It's not a question we can answer for everyone, given all the personal variables to consider. But here's an interesting look at what might have happened had you got a standard mortgage 10 years ago and overpaid $100 a month, versus investing that $100 in your TFSA in the world's most popular stock index, the S&P 500.
‎
After 10 years:
‎
What does this prove? Not a heck of a lot.
The past won't tell us the future
Stocks entail more risk than mortgage prepayments and aren't suitable for everyone
Stock gains of 11.9% annualized — like we've seen over the last decade (including dividend reinvestment) — are unsustainable.
If you make more conservative assumptions, like using today's 2.79% 10-year fixed rate and a 6% stock index return, the hypothetical results look like this after 10 years:
With mortgage prepayments: You'd have a $13,847 smaller mortgage
With Monthly Stock Investing: You'd have a $16,388 bigger tax-free investment portfolio
So again, in a highly simplified example like this, investing wins. But it only wins if historical long-term returns hold up, if you have the stomach for it and if you won't touch your investments for a very long time.
Scotia Cuts: Scotiabank has dropped the following posted fixed rates:

1yr: 3.19% to 3.09%
2yr: 3.29% to 3.19%
3yr: 3.89% to 3.79%
4yr: 4.19% to 4.09%
5yr: 4.94% to 4.79%
7yr: 5.49% to 5.39%
10yr: 5.99% to 5.89%

Scotia trimmed its 5-year posted rate to 4.79%, the lowest in years. Meanwhile, the Bank of Canada's official 5-year posted rate — which dictates the minimum mortgage stress test rate — remains hugely inflated relative to all objective benchmarks. This chart below shows how inflated it is. Despite bank funding spreads coming back to normal (as seen in the bottom pane of the chart), banks are keeping 5-year posted rates drastically propped up (as seen in the top pane of the chart). Scotia's move today provides some hope that other banks will drop their posted rates too. That would not only make it easier to qualify for a mortgage, but save fixed-rate borrowers on mortgage penalties. As we speak, the gap between typical 5-year posted rates and actual discounted rates is over 250 basis points. We don't have to tell anyone who knows how to calculate an interest rate differential charge how outrageous early prepayment penalties can be with those sorts of discounts.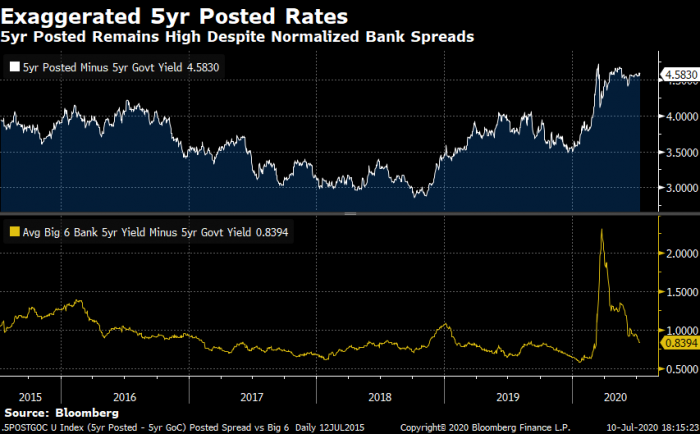 Jobs Return: Canada got an estimated 952,900 jobs back in June, exceeding optimistic forecasts. Capital Economics says, "the majority of the pandemic-related job losses will be regained by the end of the summer." But it doesn't expect unemployment to fall back to pre-virus levels for at least 2-3 years. Bond yields, which steer fixed mortgage rates, barely budged and remain in an oddly narrow trading range.
ICYMI: RBC and TD have extended the deadline to apply for mortgage deferrals until September 30, matching CIBC. RBC is still reportedly getting about 400 deferral requests a week.
---

---