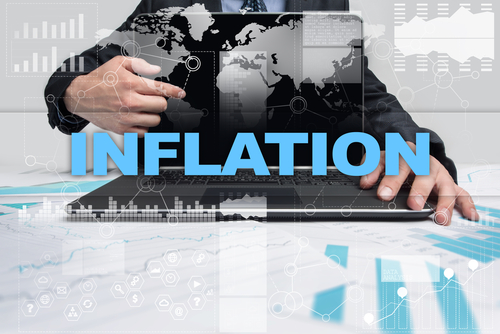 If you knew where inflation was headed, you'd have a great chance of knowing where mortgage rates were headed. The latter rises and falls with the former.
That's why so many people try to predict inflation. Among the many who think they know where it's going:
The 100 senior Canadian businesspeople surveyed by the Bank of Canada every quarter

2 out of 3 believe inflation will remain at 2% or less in the next year
Only 1% think inflation could top 3%

The International Monetary Fund

It forecasts 1.9% to 2.1% inflation through 2024

The OECD

Last year it predicted 2.06% average inflation through 2060

Private sector economists

The consensus forecasts 1.9% inflation through 2021

The Bank of Canada itself

It expects 2% inflation next year, right on target
These pros are fallible in their forecasts, so you can't put too much stock in them. Nonetheless, it's worth noting that virtually no one credible has been forecasting that core inflation will approach the Bank of Canada's worry zone (3%+).
That's not to be unexpected. For decades running, Canadian inflation has been remarkably contained. In over a quarter century core inflation has never even neared the Bank of Canada's 3% limit, not even once.
In other words, the Bank of Canada's 2% inflation target has helped create persistent 2% inflation expectations. That and a slowdown in Canada's long-term economic growth rate have minimized the need for rate hikes.
Where Does Our Inflation Come From?
Much of Canada's inflation is rooted in our trading relationship with the U.S.
This chart below shows how important of an economic (trading) partner America is. The U.S. is the big circle on the lower left.
The American economy is essentially our biggest external driver of inflation. It's quite relevant, then, that expectations for U.S. inflation have been steadily declining.
What It Means
Interest rates track inflation expectations. Expectations today are for at- or below-target inflation over the next couple of years…or longer.
For that reason, expect no major increase in rates unless those expectations change dramatically. And few are betting on a sharp upturn in the North American inflation outlook, certainly not before the U.S. election in a year.
Even fewer believe the Bank of Canada has grounds to lift its key interest rate, which is already the highest in the developed world.
And we shan't forget that 1 in 4 economists tracked by Bloomberg are still predicting a U.S. recession within 12 months. We likely won't see one "in the next 6 months," says Helmut Pastrick Chief Economist, Central 1 Credit Union. That "can be stated with a high degree of confidence…"
"And not in the next 12 months [either]." That, "with a lower, but still high degree of confidence. The further out one looks, the probability of a recession rises, however…"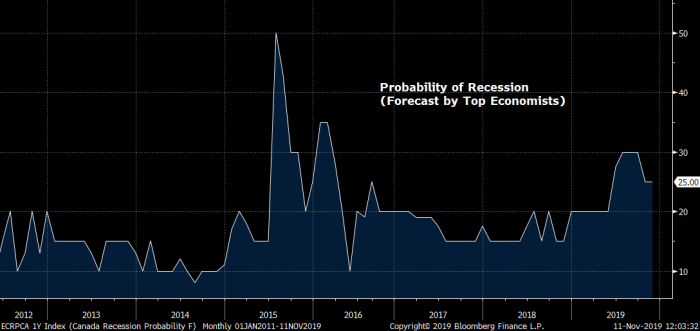 As a mortgage shopper, one could assemble the above information and conclude there's a reasonable risk-reward in taking the cheapest possible short-term full-featured fixed rate for their next mortgage. And if they were financially stable, creditworthy and risk tolerant, they'd probably be making the right move.
---
Data Sources: Bank of Canada, Bloomberg
---

---