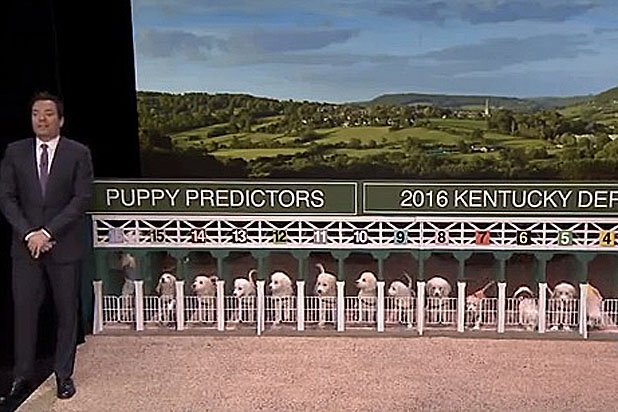 If Jimmy Fallon's "puppy predictors" ever start forecasting interest rates, some economists could be out of work.
These four-legged furballs may very well have just as much forecasting ability as your typical Bay Street analyst.
To "prove" it, we use 20/20 hindsight to our advantage (and economists' disadvantage). Taking a trip back to 2015 shows just how reliable economic forecasts can be.
If you recall, 2015 was a year that featured two quarter-point rate cuts—one in January and another in July.
January 2015 was therefore an ill-timed period for headlines like these:
"Get Ready for Interest Rate Shock in 2015" (January 2015; CBC)
"Bad news for borrowers: The economy could improve this year" (January 2015; Globe).
Surely expert analysts could do better than these off-the-mark journalists.
Or not.
Witness these intrepid economist predictions:
☓ Benjamin Reitzes, BMO, January 2015: "Our call at the moment is that they start raising rates in October [2015]."
The BoC cut twice after this "call" and didn't hike for two and a half more years.
☓ Mark Chandler, RBC, April 2015: "For the July meeting…Our own forecast calls for the Bank to remain on hold and begin removing accommodation around this time next year."
The BoC, in fact, cut at that July meeting and didn't "remove accommodation" for two more years.
☓ Avery Shenfeld, CIBC Economics, April 2015: "We'll still [stick] to our call that there will not be a second rate cut this year … All told, the signals lean towards watchful waiting, not further cutting."
Of course, there was a second rate cut.
☓ Douglas Porter, BMO chief economist, April 2015: "At this point, we are looking for average growth of just a bit better than 2% in that spell, which would likely be just enough to keep the BoC on hold."
It wasn't enough to keep the BoC on hold.
☓ Derek Hold, VP Scotiabank Economics, June 2015: "Another rate cut at this juncture would do more damage than good over time. Our forecast remains no change in the BOC's overnight policy rate over the duration of this year and all of next (year)," he said.
Well, he got the "all of next (year)" part right.
Of course, not all forecasts were total flubs.
✔ Capital Economics, April 2015: "…the Bank will have no other choice but to cut rates further, all the way to 0.25% before year end."
At least this guy nailed the rate cut. We'll overlook that BoC's overnight rate only dropped to 0.50%.
✔ Douglas Porter, chief economist at BMO Capital Markets, June 2015: "I would think that based on everything that has happened in the last little while, I give it slightly better odds that they'll cut…"
After his April forecast above, Porter reshaped his views in the face of new information and got the rate drop correct—albeit saying the odds of a cut are slightly better than a coin-flip isn't exactly sticking one's neck out.
*********
Even last year's first rate hike wasn't widely expected until well after the central bank began dropping hints about its hawkish bias. Look at late 2016, for example. At the time, most economists didn't project higher interest rates in 2017. "The consensus…doesn't have the Bank of Canada hiking interest rates until 2018," Porter told the Globe and Mail In 2016.
For what it's worth (and it's not worth much as you can see), markets are fully pricing in a second rate hike by the end of this year.
But don't depend on the fickle markets for rate predictions when a cuddly, cute puppy predictor provides similar accuracy.
---

---