The Bank of Canada maintains that rates are going higher.
Meanwhile, it just slashed Canada's 2019 growth forecast by a not-so-paltry 0.40 percentage points.
Does that strike anyone as a mite bit inconsistent?
The Bank is now calling for just a 1.7% GDP gain this year. That's pretty darned feeble. Bonsai trees and glaciers grow faster than 1.7% a year.
How Captain Poloz will manage to get rates near "neutral" (which is at least 75 bps higher by his estimate) with this kind of soggy growth is anyone's guess.
He's definitely battling history. As far back as StatsCan's data goes (1981), the Bank's policy rate has never ended the year higher when real GDP (in that year) grows less than 2.00%.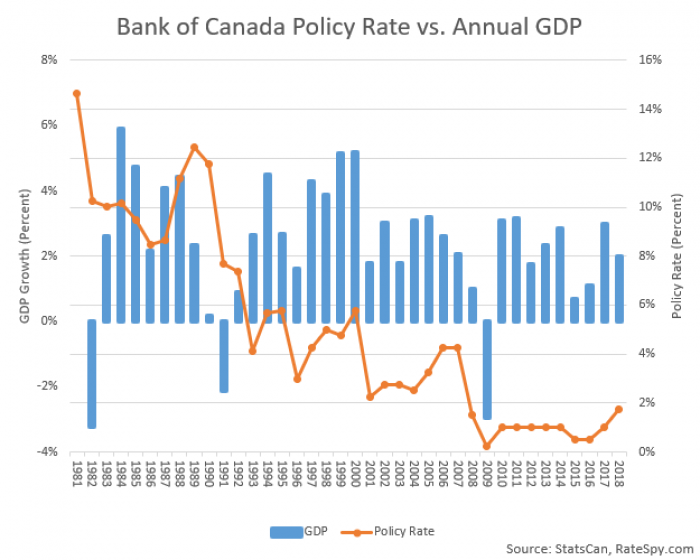 So even if Poloz-the-positive does find a way to save face and coax the overnight rate higher, odds are against the Bank taking it more than a quarter point higher. And that's exactly what financial markets are now pricing in for 2019, a quarter point bump.
Then of course comes 2020, a year that puts us nearer to (or smack dab in the the midst of) an economic slowdown, if not a recession. That's assuming traders and economists are right — and when aren't they right? (Other than that 50% of the time they're not right.)
All of this should inspire more Canadians to consider floating-rate mortgages…just in time for variable discounts to shrink.
---

---