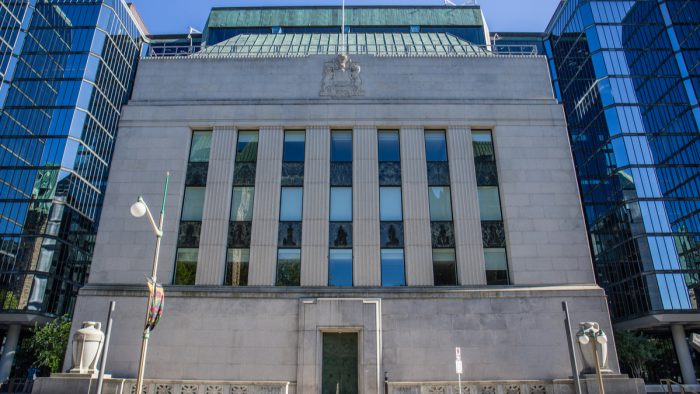 Bond yields heavily influence what people pay for a mortgage. In general, the more government bond-buying there is, the lower fixed mortgage rates go.
Explainer: Bond prices and bond rates (yields) always move inversely. Fixed mortgage rates are benchmarked against bond yields.
Governments around the world are manipulating mortgage rates by buying their nations' own debt.
Take the U.S. Federal Reserve, for example. It's bought up over 16% of America's massive Treasury market.
But, percentage-wise, that's conservative compared to our very own central bank. The Bank of Canada owns almost double that percentage. So far, the BoC has snapped up over 30% of Canada's $1.04 trillion Government of Canada bond and Treasury bills market (as of Sept. 8, according to the Bank of Canada).
This chart below shows how dramatically the BoC has stepped up its bond-buying.
BoC bond purchases are a big reason why this chart of the 5-year yield is going sideways—holding down 5-year fixed mortgage rates in the process.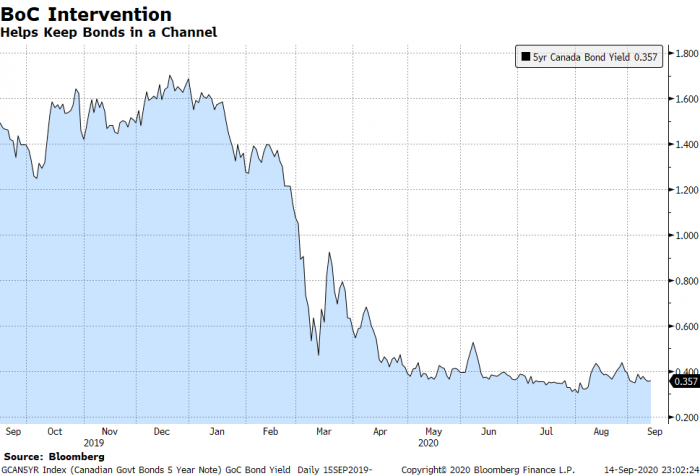 Investors are less likely to sell government bonds knowing the BoC has a standing buy order. And whenever investors do sell bonds—which would normally drive up rates, other things equal—the BoC is there waiting to scoop them up. If 5-year bond prices won't go down, yields (and mortgage rates) can't go up.
As mentioned, all this central bank buying is keeping yields unusually flat. Volatility in Canada's bond market is now the lowest it's been this millennium. There's something somewhat eerie about that, knowing that calm always appears before a bond market storm.
That storm is (hopefully) far off on the horizon, but it's coming at some point. Borrowers should prepare to batten down the hatches when it does—i.e., when the BoC stops buying bonds or, heaven forbid, starts selling them.
Just last week, the Bank of Canada trimmed its Treasury Bill purchases, showing that its buying is not limitless.
The end of QE ("quantitative easing," as it's called) has considerable mortgage rate implications. We'll explore those risks in a Globe and Mail column this week.
---

---