A regular consideration when choosing between a fixed or variable rate is the difference between them. As of late that "fixed-variable spread," as we jargony industry people call it, has been slowly narrowing.
So far, it has mostly been a result of diminishing variable-rate discounts. Just this morning, for example, TD hiked its advertised variable rate a head-turning 20 bps. While TD mortgage rates don't necessarily dictate what other lenders do, this news does follow a series of public and internal variable-rate hikes from other banks.
More importantly, TD's move today is reflective of the margin compression big banks are seeing, and expect to see, in the floating-rate market. (Note: TD's increase affects only new variable-rate customers, not existing borrowers.)
Fixed rates are also a factor. As fixed rates drop, the spread tightens further. Most in the industry fully expect 5-year fixed rates to edge lower this quarter, which could narrow the fixed-variable spread in a meaningful way.

Swaying Decisions
If this trend continues, the fixed/variable decision will become incrementally more difficult, at least for some.
Historically, whenever the spread has approached 1/2 percentage point or less, more people start considering fixed rates, which are viewed as a form of rate insurance.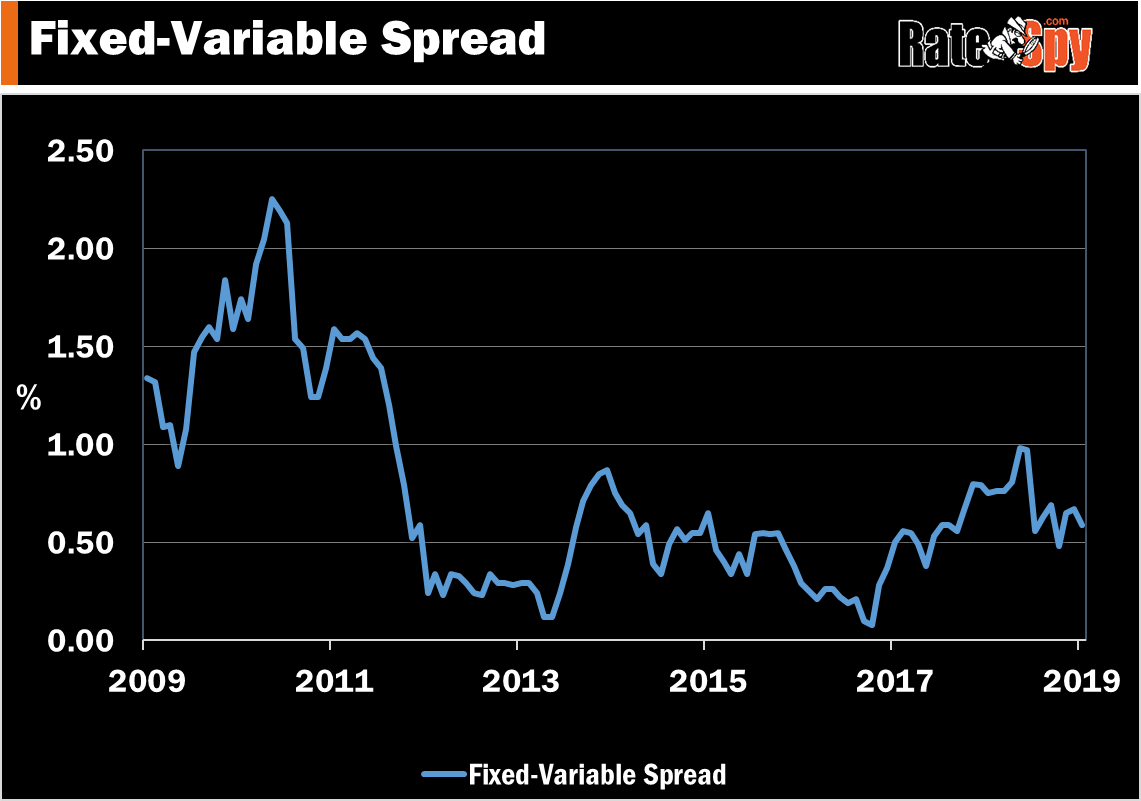 But unless it shrinks considerably the spread may remain a secondary factor for term selection. We don't expect significant shrinkage unless/until the economy weakens further. That's when investors could become more worried about big bank risks, which in turn could increase banks' funding costs.
For now, factors like the general outperformance of variable rates, Canada's less-bullish rate outlook, the penalty advantage of floating rates and their upfront rate advantage are more salient to most borrowers.
Fixed Rate Update
Just yesterday, Canada's lowest 5-year fixed rate dropped to 3.14%. That's the lowest it's been since October. Unfortunately, this deal only applies to insured purchases closing by Feb 28 and it's available only via brokers.
The lowest 5-year fixed rates on lender switches and refinances are still stubbornly high—as are discretionary rates at most big banks.
Give it time, however. The more bank competitors drop their fixed rates, the closer we get to the Big 6 dropping theirs…and the more the fixed-variable spread will come into play.
---

---