Daily Mortgage Report – May 8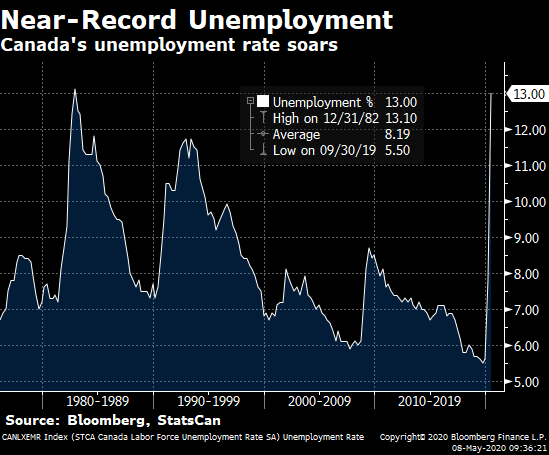 Unemployment Surprise: Unemployment is a key determinant of home prices. And while it may seem hard to put a record 2 million lost jobs (StatsCan's estimate for April) in a positive light, when economists were predicting double that amount, it's a relief. Canada's unemployment rate surged to 13%, near the highest in modern data going back to the 1960s (it was ~30% during the depression). And while 2 million was less than we and others feared, "more than one-third (36.7%) of the potential labour force did not work or worked less than half of their usual hours," said StatsCan.
Record Government Support: 7.6 million Canadians have applied for the $2,000/month Canada Emergency Response Benefit (CREB). The government's hope is that CREB, combined with mortgage/rent deferrals and other extraordinary government subsidies, might get Canada through double-digit unemployment better than in 1982, an era with 20%+ interest rates— albeit far smaller debt loads.
---

---