Knowing the future wouldn't help you pick the right mortgage.
Unless you knew all the future.
Imagine a fantasyland case where it was 100% certain that all mortgage rates would be higher in five years. With that priceless information most people would take a 2.49% five-year fixed over a 2.59% one-year fixed.
But initial rates and ending rates are only two of the variables that determine borrowing cost. There's a lot that happens in between the start and end of your term.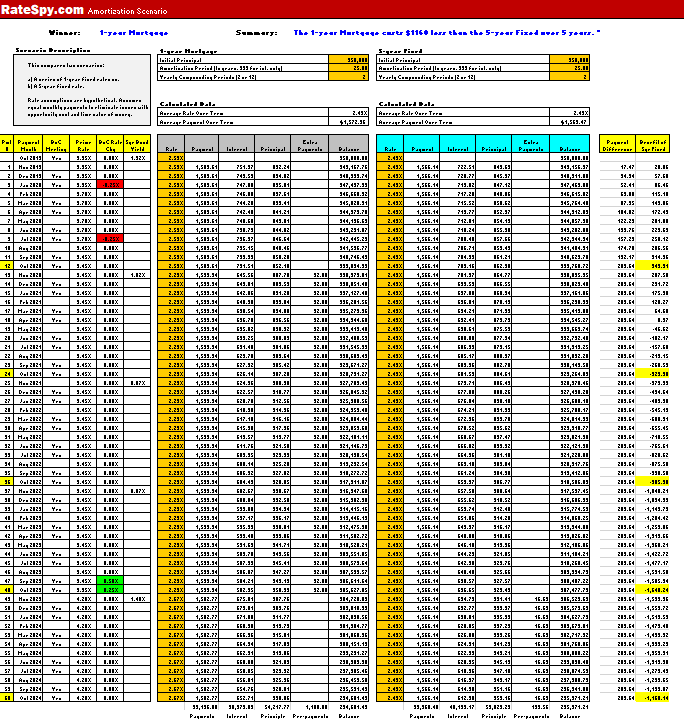 For those who don't alter their mortgage before maturity, it's often the path of rates that matters most. This scenario on the right (click the image) shows why.
In this hypothetical, the advantage of a lower starting rate is negated by a lower average rate over five years. There are countless ways that could happen. One of them: the Bank of Canada cuts rates in the first 12-18 months before hiking a year or so before you renew. Some argue that this is the setup that could be taking place right now.
Regardless, what anyone thinks might happen is secondary to what history shows actually does happens, more often than not. That is, shorter-term mortgages give people a solid chance at a lower average rate over five years.
Yes, you have to renew more often in a 1- or 2-year fixed and yes there is a cost for that (usually at least a $250 to $300 "discharge" or "assignment" fee from your old lender). And, on terms under three years, many lenders don't cover transfer fees (legal and appraisal charges) either.
On the other hand, you may get lucky and have a lender that offers decent renewal rates. It helps if you choose a competitive lender that transparently advertises rates in the first place.
And borrowers for whom a short-term mortgage is suitable cannot ignore the other benefits of shorter terms:
Unlike our example here, shorter terms are usually cheaper than 5-year mortgages (And that's the case today. They're up to 1/2 point lower as we speak, depending on your province and down payment.)
Like variable mortgages, the best 1-year fixed rates have beat the best 5-year fixed rates the majority of the time.
Less penalty risk if you renegotiate or discharge your mortgage before five years (depending on the lender you're likely looking at a three-month interest penalty with a 1-year mortgage, versus a potentially heinous IRD penalty in a 5-year fixed.)
Choice of any term at renewal, including the industry's best promotional rates.
The ability to lock into a long-term rate later if need be.
So, expect that rates might be higher five years from now. But don't expect it to mean short-term mortgages will lose, as enticing as today's 5-year fixed rates may be.
---

---