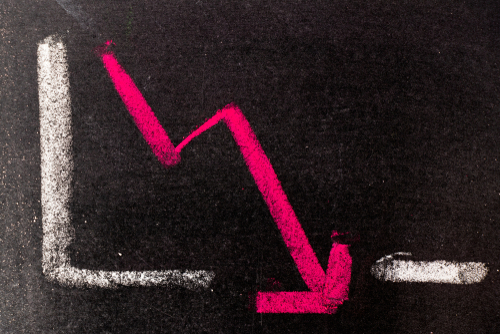 Mortgage Report – May 12
Not So Timely: The government's 5-year bond yield, which heavily influences fixed mortgage rates, peaked in October 2018. Since then, it has collapsed 212 basis points. Meanwhile, big banks have lowered 5-year posted rates just a stingy 30 basis points. The banking regulator (OSFI) considers that a problem and proposed to de-link the mortgage stress test from posted bank rates as a result. Well, RBC did "its part" today to narrow the gap. It cut its posted 5-year fixed rate by 10 whole basis points, to 4.94%. That puts it at the lowest point since October 2017 and makes it the lowest 5-year posted rate among the Big 6 banks. Yippee ki-yay.
Who Cares? RBC's posted-rate cut today has dual relevance:
1) As noted, the Big banks' posted 5-year rates determine the government's mortgage stress test. If one more bank lowers its current 5.04% rate, the minimum stress test rate could drop, making it easier for borrowers to qualify for a mortgage. Will this happen? Yes. We just don't know when exactly.
2) Other things equal, a lower 5-year posted rate reduces interest rate differentials (IRDs), and hence prepayment penalties. That can potentially save borrowers money if they break a big-bank 5-year fixed mortgage early.
We say "other things equal," however, because RBC also cut its shorter-term posted fixed rates. That can have the opposite effect; i.e., it can widen IRDs and increase penalties for existing borrowers who break early. Here's the full list of RBC's posted fixed-rate reductions:

6mo convertible: 3.29% to 3.04%
1yr: 3.19% to 3.04%
2yr: 3.54% to 3.39%
3yr: 4.05% to 3.90%
4yr: 4.64% to 4.44%
5yr: 5.04% to 4.94%

Economic Cheat Sheet: As we parse economic events, some readers find it hard to infer how such events could impact mortgage rates. So, going forward we're adding a bit of help. Effective today, the Spy will make an attempt to gauge the impact of economic news on mortgage rates in a clearer way. We'll do that with a quick summary in italics following economic news blurbs. Projected rate impacts will be labelled:

"bearish" (i.e., the news could push rates down over time, other things equal)
"bullish" (i.e., the news could push rates up over time, other things equal), or
"minimal" (i.e., the news may have imperceptible impact on mortgage rates).
In reality, things are never "equal." And, more importantly, the time frames for economic developments are impossible to speculate on, so we won't. Specific economic predictions are a fool's errand anyhow. That said, the hope is that such commentary might help readers who are adamant about forming a mental picture of how rates might play out.

Oil Panic Over, For Now: Just 22 days after traders couldn't give a barrel of oil away (literally), the oil pendulum has swung towards fears of under-supply. Funny how that works. That's got WTI oil trading near a one-month high. But, notice how oil's 258% rebound since April 21 hasn't budged one of Canada's most important economic indicators, the 5-year government bond yield. Traders aren't buying the energy turnaround story, and oil's short-term bounce is barely impacting the long-term inflation outlook. Rate impact: somewhat bearish.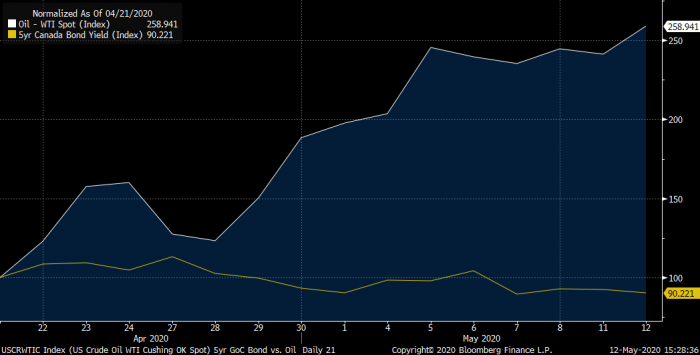 Trade Tensions Return: As if we need another cloud hanging over the economy, Washington's denunciation of China's handling of COVID risks jeopardizing trade progress between the two countries. Beijing showed what it can do this week by banning certain Australian meat imports, accusing the Aussies of spearheading a "malicious campaign to frame and incriminate them." Now, with China also accusing the U.S. of a smear campaign, optimism on U.S./China trade is at a multi-month low. And yes, if things get frosty trade-wise, Canada won't escape harm given its U.S. economic ties. Rate Impact: slightly bearish.
---

---