—The Mortgage Report: Aug. 25—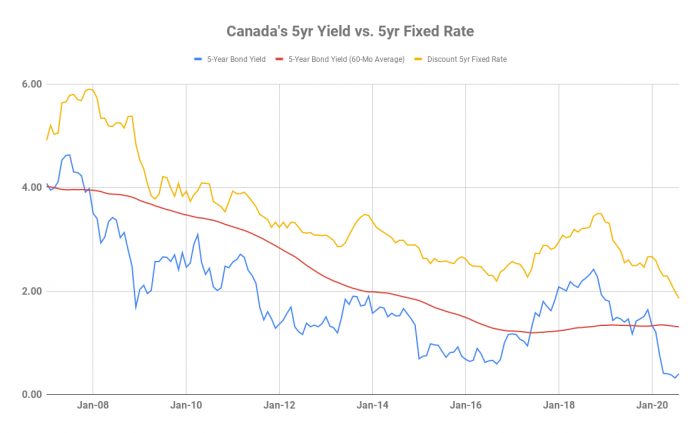 Yes. The Question is: When?
Most readers know that fixed mortgage rates follow bond yields. But it's bond yields south of the border that are particularly influential for Canadian mortgage rates — given U.S. influence on our economy.
To get to 1.49% on discounted 5-year fixed rates, we need a Canadian 5-year bond yield near zero (since 5-year fixed rates tend to be roughly 150 basis points above the 5-year yield).
To get to 0% on Canada's 5-year yield, we likely need a U.S. 10-year yield at roughly 0.25% or less (it's 0.69% now). That's certainly within reach, with some bond experts projecting it to hit zero or even go negative.
The real question, though: Is it worth the gamble to wait for record-low 1.49% rates? The prudent answer is usually "no." It's too easy to miss the bus when trying to pick a bottom in rates. Yes, yields could approach zero. But it could take months or even years to get there. No one really knows.
If you're going to try and hold out anyway, put a tight "stop-loss" on the 5-year yield. In other words, if you see Canada's 5-year bond yield spurt above 0.55% to 0.60%, lock in a rate hold pronto. You can always keep rate shopping and reset your rate lower after that.
The takeaway: Canadians already enjoy tremendously low (record low) rates. Insured rates are now just 10 bps away from 1.49%. If your mortgage closes in the next 120 days and you plan to lock in, be careful about pressing your luck too much.
Deferrals Still Running High
Third-quarter bank earnings reports are starting to come in. Early indications are that mortgage deferrals at major banks haven't come off their peaks like they have at other lenders. Examples:

At BMO, 14% of mortgagors were deferring payments in Q3, the same as last quarter
At Scotiabank, 18% of mortgagors were deferring payments in Q3, up from 17% in Q2/20

By the end of October, most of these deferrals are expected to wind down.
One key to remember: Getting a deferral has been far easier at the major banks than at most other lenders. More importantly, big banks have been doling out 6-month deferrals while most smaller lenders were doing 1-3 months tops. That's contributing to higher and more persistent deferral rates at the banks.
If you're worried about the end of deferrals triggering a housing sell-off, note that:

These are mostly "super-prime" customers with over 40%+ equity on average, says Scotiabank. Very few will be panic-selling houses.
To date, Scotiabank has seen 99.4% of customers remaining current on their mortgage after coming off deferral. Albeit, there's just weeks of data here, so we don't think this is a representative sample of borrowers.

There's one thing everyone can agree on. Unemployment needs to drop. That's the #1 way to minimize the number of people unable to handle their payments when deferrals end.
A QE Primer
"When we buy Government of Canada bonds, this is called quantitative easing, or QE for short," says the Bank of Canada. "QE can encourage spending and investment by households…For example, if our purchases lowered the yield on five-year government bonds, this would be reflected in lower interest rates on five-year fixed-rate mortgages. And that makes it cheaper to borrow to buy a house."
The BoC Wants Your Opinion
You can tell the Bank of Canada exactly how you think it should guide its key interest rate…..by taking this survey.
---

---