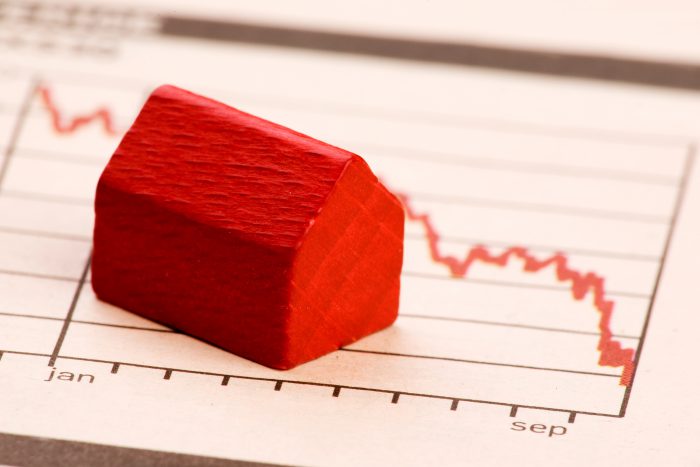 Sub-1% Rates: One of the greatest economic tragedies in Canada's history is unfolding before our eyes. When we talk about how low mortgage rates are, it can't be stressed enough that no one wanted this to be the reason for it. But if there's one silver lining, it's variable-rate borrowing costs. 1 in 5 borrowers took out a variable-rate mortgage last year and a few lucky borrowers hit the jackpot. We're aware of some customers who got variable mortgages last November at effective rates (i.e., factoring in cash rebates at the time) of prime – 1.46%. That's a record discount. Essentially they're now enjoying borrowing costs under one per cent (0.99%). Unfortunately, we likely won't see such discounts again until the overnight rate climbs meaningfully above zero. That could take 18-30+ months years if history is a guide.
Is Your Job Essential? Some lenders are now evaluating borrower income based on whether the applicant's job is considered "essential," as determined by the government (here's Ontario's definition, for example). Increasingly, mortgage applicants who don't work in these sectors are having to prove their employer will continue to pay them during the COVID lockdown.
Credit Impact: We're hearing from big banks that mortgage payment deferrals will not harm customer credit scores—so long as the customer remains in good standing. But don't take anything for granted. If you defer your payments, have the lender confirm to be sure—and get it in writing or record the phone call.
60,000: That's how many online mortgage payment deferrals Scotiabank has approved in just five days. Inquiries to its mortgage call centre "are up more than 500%," the banks says. CEO Brian Porter also said the bank has put aside "$5 billion of allowances for credit losses."
Remote Signings Stop: Leading title company FCT is halting in-person remote signings due to COVID-19. FCT closes switches and refinances for numerous lenders and is an essential cog in the mortgage wheel. The company will now reportedly use "virtual witnessing" of mortgage closing documents. Not all lenders may accept that process, however, which could potentially result in funding delays. Ask your broker or lender if your closing will be affected.
Record Debt: TD Securities says Canada's budget deficit could top $180 billion due to all these Covid-relief efforts. As a result, Canada's federal debt-to-GDP will likely break its 1996 high of 100%. If taxes eventually go up to pay for it, that could further weigh down interest rates longer term. More likely, the government will just keep printing money, something that old school economists believe could eventually add premiums to Canadian bond yields.
Default Drivers: DBRS says there's a 79.9% correlation between unemployment and people not making their mortgage payments. It adds there's a 49.1% correlation between annual home price decreases and mortgage defaults (from 1990 to 2019).
Mortgage Liquidity Improves: If mortgage rates are to start dropping again, lenders need better access to cost-effective funding. And that's what they're starting to get:

The Bank of Canada bought $1 billion of mostly 5-year government bonds today. It's the BoC's first foray into what's known as "quantitative easing," something we didn't even see during the 2008 financial crisis.
The extra that banks pay to fund 5-year debt in the bond market shrunk 10 bps today, a big positive.
The BoC bought $235 million of Canada Mortgage Bonds (CMBs) in the open market yesterday.
CMB spreads—i.e., the extra investors demand—for essentially risk-free CMBs have stopped increasing, at least for now.
Bankers acceptance (BA) yields are slowly drifting lower (BAs are a vital short-term funding source and they tend to correlate with variable-rate mortgage discounts). As we speak, however, they're still well above normal given the 150 bps of BoC cuts.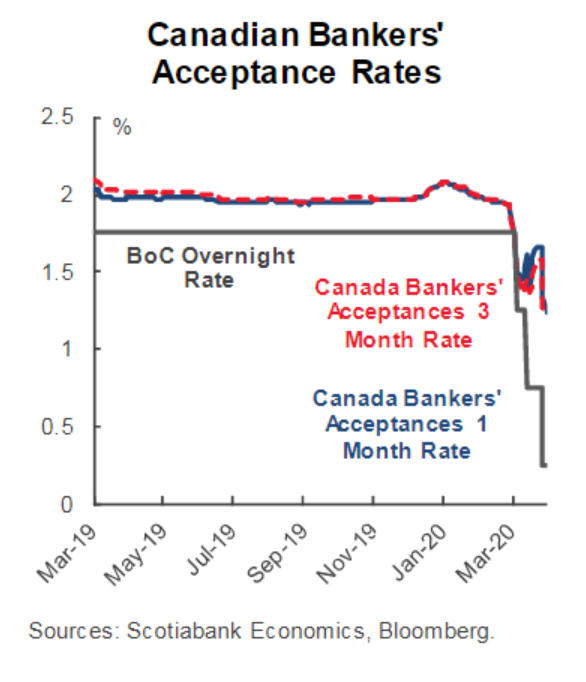 Unfortunately, despite heroic measures by the government to boost liquidity, these spreads could potentially worsen if/as the market sees further devastation in labour, oil and corporate credit markets.
---

---