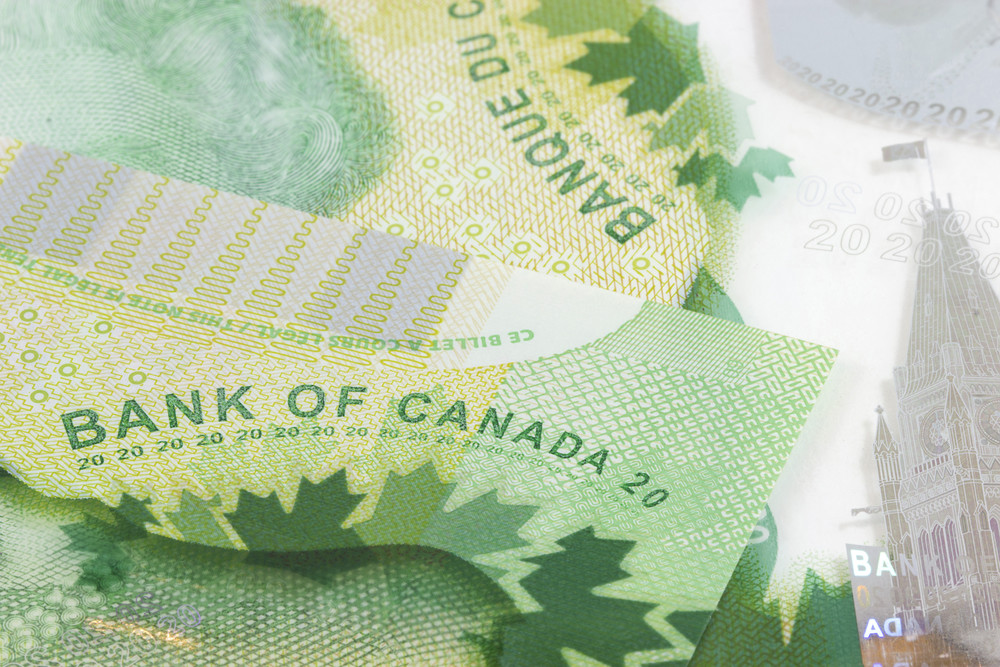 No one thought the Bank of Canada would move rates today. What observers were looking for was a hint that we may be closer to the end of rate hikes than Governor Poloz has been letting on.
Here's what we heard from the BoC on that point, among other things:
Rate Decision: Canada's key interest rate remains at 1.75%
Prime Rate: Prime rate stays at 3.95%
Market Rate Forecast: Zero hikes this year. Zero to one hike in 2020.
BoC's Headline Quote: "…The outlook continues to warrant a policy interest rate that is below its neutral range…"
Neutral Rate Update: The BoC's estimated neutral rate range is 2.5% to 3.5%, but many expect it to be revised down by at least 25-50 bps in April.
BoC on GDP Growth: "…It now appears that the economy will be weaker in the first half of 2019 than the Bank projected in January." You can say that again.
BoC's Full Statement: Click here
Next Rate Meeting: April 24, 2019
The Spy's Take
The BoC significantly toned down its guidance on future rate hikes, citing "increased uncertainty about the timing of future rate increases."
And it should. Canada just saw the weakest quarter for GDP (-0.1% growth in November and December) in two and a half years, despite constant government stimulus (deficit spending).
The Bank continues to telegraph that the next overnight rate move will be up. And it better hope for supporting data on that soon as its credibility is starting to come into question.
As for the market, it made its position immediately known by driving down bond yields after the BoC's statement. Canada's 5-year yield (the most-watched indicator in the mortgage market) fell below 1.70% for the first time in 15 months.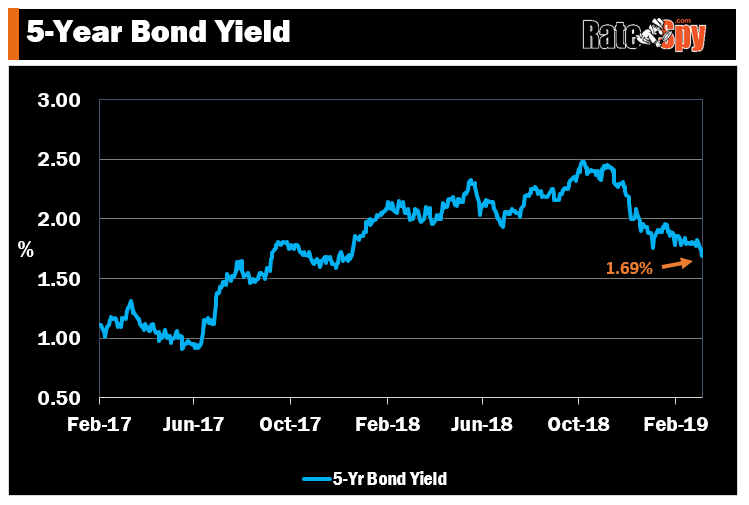 The discount of Canadian two-year yields to two-year U.S. yields is now the biggest in over a decade. That's market testimony that Canada's rate-hike cycle is finished, or close to it.
Fixed Rates Aren't Waiting Around
Fixed mortgage rates are taking their cues from the bond market. They're not waiting for the BoC to cut rates.
Canada's all-important 5-year bond yields cracked pivotal support today, falling to its lowest level since 2017. That portends further fixed mortgage rate cuts, particularly if home prices, consumer spending and/or oil prices keep sliding.
We've already seen all major banks chop rates over the past two weeks. With most 5-year fixed mortgage rates still 180+ basis points above the 5-year yield (normal is closer to 150-160 bps), there are more fixed cuts to come. That's especially true since: (A) we're heading into peak season for mortgage sales, and (B) lenders must protect their market share amid slowing growth.
Fixed or Variable?
Five-year fixed rates will crawl closer to 3% in the coming weeks. Some are already there.
Those who locked in when rates were under 3% are still sitting pretty. In fact, many of our readers in 2016 snagged 5-year fixed rates at an unbelievably low 1.99% or less.
Will we ever see those rates again? 100% yes. The next recession could take us there; we just can't tell you when.
One more thing. If you're well-qualified and getting a new mortgage in the next few months, don't get too hung up on the narrowing gap between 5-year fixed rates and variable rates. That spread is narrowing for a reason (a deteriorating rate outlook). Don't take it as an indication that you should lock in simply because fixed rates are now relatively cheaper versus variable rates.
---

---