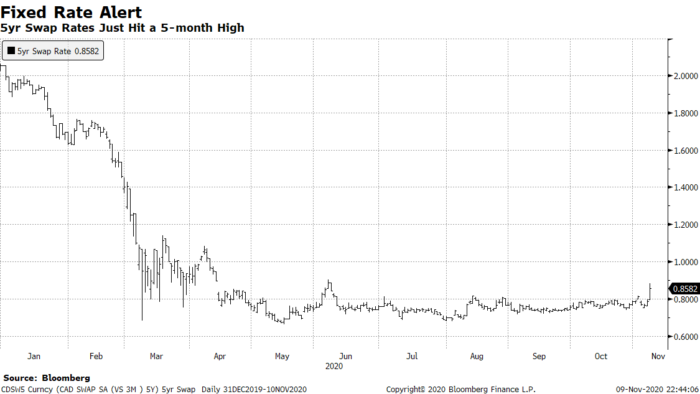 Bond yields shot up like a cannonball after news broke this morning of Pfizer's positive vaccine trials. Canada's 5-year swap rate, one of the best leading indicators of fixed mortgage rates, sailed to a 5-month high.
Now, everyone's trying to figure out how long it'll take before this translates into above-target inflation, which would be the Bank of Canada's trigger to start hiking interest rates. (Hint: It'll take longer than next year, unless the BoC—heck, unless the entire economic establishment—is drastically off base with its forecasts.)
Here's what we know.
The BoC's overnight rate is stuck in a rut — at what the Bank calls its "effective lower bound." That means prime rate ain't going anywhere for multiple quarters. Average core inflation would have to shoot meaningfully above 2% to justify a BoC hike, and that "does not happen until into 2023," the Bank projects.

Could our central bank have its forecast all wrong? Absolutely. It's been wrong before. But its credibility depends on following through with its forward guidance. Hence, BoC rates hikes in 2021 are highly unlikely.

Bond yields, however, are a different animal. They won't wait for the Bank of Canada. The bond market prices in good news one to two years in advance.
When bond yields jump, fixed mortgage rates jump. If yields rise materially from here, this time will be no exception.
Lenders are already advising brokers that fixed mortgage rates are in danger of rising. We got three such emails today. This threat will be magnified if Canada's 5-year yield breaks above 0.50 to 0.60%. It closed today at 0.48%.
With financial markets getting their first legitimate hope of "normalcy" in nine months, investors are ready to price in higher growth next year. And investors are ready to sell bonds at the first hint of higher future inflation. (That would be bullish for rates since bond prices and interest rates move in opposite directions.)
Regardless of whether this rate spike is for real, lenders know full well that borrowers will rush to lock in if rates break out of their historically tight range. They also know that people who've been waiting for lower rates will panic when rates do the unexpected (surge higher), and flood into fixed rates.
Lenders have seen such behaviour time and again, and they price for it. That is, once rates show any kind of follow-through to the upside, they'll give borrowers scant time to lock in.
---
Sidebar: The Bank of Canada has pledged to buy government bonds in order to keep yields low and spur more borrowing. Some believe that creates a glass ceiling for rates. In the short term at least, it definitely does not. The bank was buying 5-year bonds today and rates still surged. The bank isn't scheduled to purchase 5-year bonds next until November 20. A BoC spokesperson confirmed today, "It's fair to assume that we will be transparent and purchases will follow the schedule." Hence, any jump in 5-year yields between now and next Friday would presumably be unmitigated by the BoC. And a lot can happen in seven trading days.
---

---