The Latest on Canadian Mortgage Rates: Election 2020
—10:33 p.m. Update—
Biden is just 6 electoral votes from victory, reports AP.
It's never over till it's over, but thus far election 2020 doesn't look like a threat to mortgage rates. Yields have trended lower, suggesting that borrowing costs in Canada won't be adversely impacted like they were after Trump's 2016 win.
5-year fixed rates dropped to a new record on Wednesday: 1.38% on default-insured mortgages in B.C. and Ontario.
Canada's 5-year yield has some resistance in the 0.45% area. As long as it remains below that level (or, worst case, below 0.60%), there is virtually no chance of a run-up in fixed mortgage rates.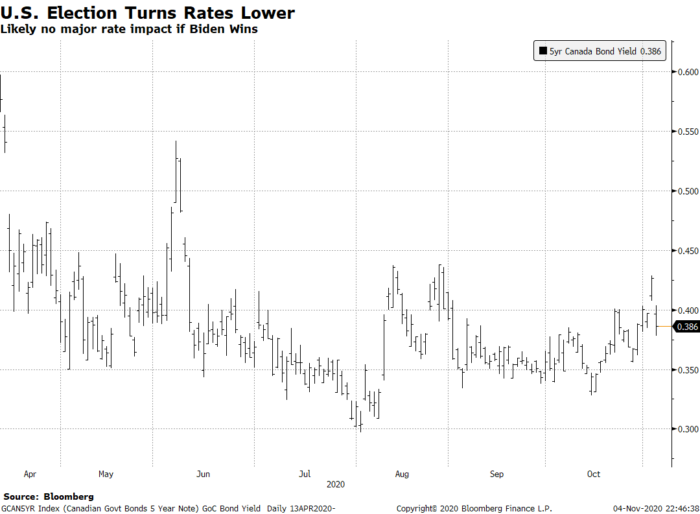 —4:43 p.m. Update—
Odds have swung dramatically to Biden's favour as AP credits him with winning Michigan and Wisconsin.
The world's most-watched bond, the U.S. 10-year Treasury, saw its yield drop the most today since the COVID crisis in March.
—11:58 a.m. Update—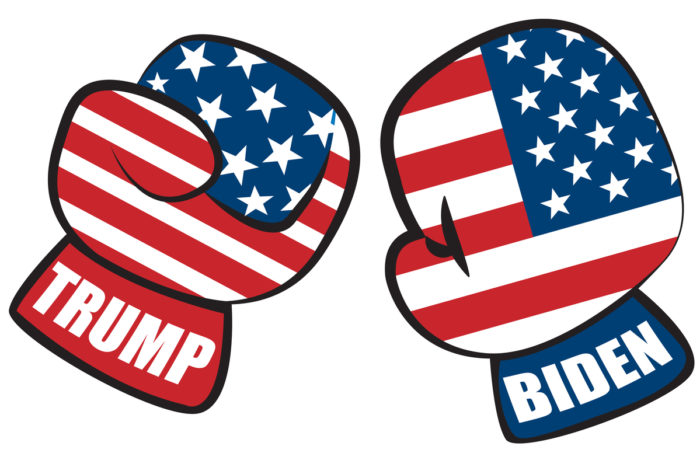 The expected "blue wave" (Democrat landslide) in the U.S. election became a purple trickle last night.
It's not over, but the Dems now seem less likely to win the trifecta: the presidency, House and Senate. Despite the odds now favouring Joe Biden in the White House, as of 11:58 a.m. ET, if the Republicans win any one of the three (and they have a good chance of taking the Senate), hopes/fears of lavish stimulus spending will dissipate.
The market sees this likely outcome as producing less inflation risk and less bond issuance. That's why we're seeing U.S. 5-year bond yields down 7 bps as we speak.
This all matters for Canadian mortgage pricing, of course, given the tight linkage between:
U.S. stimulus and global interest rates
U.S. and Canadian rates.
As it now stands, the election results likely won't have a large impact on Canadian mortgage rates near-term. But no doubt, there will be surprises ahead today and tomorrow. With word of legal challenges and recounts ahead, this thing won't be over quick. The 2000 Florida recount took 36 days.
We'll post more updates before the day's end.
---

---