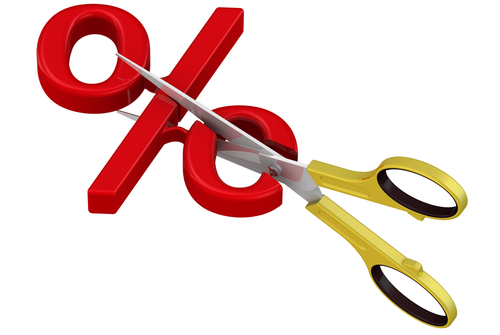 Not One and Done
If you're going to gamble on a short-term rate, you could do a lot worse than 1.29%. On a contract rate basis, that's the lowest fixed mortgage rate Canada has ever seen. And it's probably not done dropping yet.
This latest one-year offer is available in select provinces and applies to high-ratio and insurable mortgages up to 65% loan-to-value only. Check out the 1-year fixed rates page for more info.
When 1-year terms broke below the 1.50% barrier in July, they garnered a noticeable uptick in interest at the Spy—the most in years, as a matter of fact. An increasing number of mortgage shoppers seem willing to trade convenience (given you have to renew a one-year every 12 months) with the fact the BoC likely won't rain on the parade with rate hikes for several quarters. Commentators say "years," but who really knows?
The bond market thinks it knows—and it's not pricing in a BoC hike until mid-2023. And while investors are often wrong, the market is usually the best rate forecaster there is.
That said, the world has seen an avalanche of fiscal support like never before in history. The potential therefore exists for inflation expectations to front-run analyst forecasts, lifting rates a bit earlier than expected (as noted in this month's Globe column).
Note, the bond market often anticipates good news 1-2 years in advance. Therefore Canada's recovery would have to be quite dismal for our 5-year government yield not to top the key 0.60% level by the end of next year. When that finally happens, fixed rates will jump somewhat. Of course, with a second COVID wave upon us, such economic disappointment would not be unlikely, and would play right into the hands of one-year mortgagors.
RBC Cuts
The nation's top bank (at least by market capitalization) lowered two special fixed rates on Thursday:

5yr: 2.29% to 2.22%

This is an almost meaningless rate given the entire relevant Canadian lender universe is sub-2% on 5-year money for qualified borrowers (including RBC itself on a discretionary basis).

7yr: 3.14% to 3.04%
Credit Rating Alert
Runaway federal spending could "renew negative [credit] ratings pressure" for Canada, said Fitch on Friday. In other words, cost Canada more of its AAA credit ratings. Fitch became the first bond rating agency to cut Canada's debt rating in June. Loss of multiple AAA ratings would damage our perceived creditworthiness and could incrementally increase Canadian bond yields. Other things equal, that would potentially boost fixed mortgage rates (slightly). But it wouldn't happen near-term.
Rating agencies have reason for concern. As economist David Rosenberg wrote Thursday: "Over the past two decades, the correlation between the ratio of Canadian federal government spending to GDP and the pace of economic activity has been -26 per cent. That's right, more government spending actually does more to hurt than help the economy." That's rate bearish, and another example of why "other things" are rarely "equal" in economics.
Getting Off Deferrals
"Roughly 32% of Canadians who opted to defer their mortgage payments have resumed payments as of August 31."—CBA
Q-E.xit
"We expect a mild rise in rates as the Bank slows and eventually ends its quantitative easing (QE), perhaps by the end of 2021," says the BCREA. "Studies show QE lowers long-term interest rates by 10-25 basis points, so we can anticipate a similar magnitude rise in 5-year rates when QE ends."
"…The Bank will slow or end its current program of bond purchases…potentially midway through 2021. As those purchases slow, long-term interest rates will likely rise, even with the Bank maintaining its policy rate at 0.25 per cent."
CMHC Boss Wanted Federal Intervention
CMHC CEO Evan Siddall wanted the Feds to force his competitors to abide by the same rules he imposed on CMHC borrowers July 1, reports the Financial Post. But he couldn't get officials to bite. "Would I have preferred the industry to do that across the board? Yeah. But that's not my call, it's the Department of Finance's call," he told the Post. Siddall said he tightened lending to avoid a "drag on the economy." But there's more to that story.
---

---