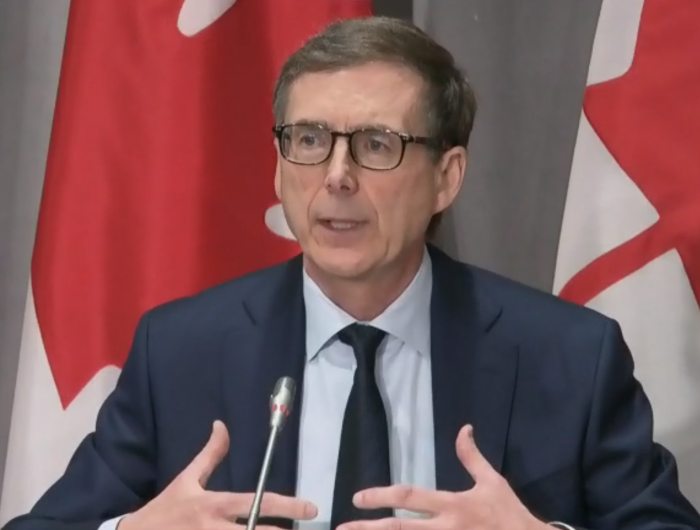 Quick Rundown
Today's Announcement: No change to rates
Overnight rate: 0.25%
Prime Rate: 2.45% (also no change; see Prime Rate)
Market Rate Forecast: No BoC hikes until at least 2023
BoC's Headline Quote: "The Governing Council will hold the policy interest rate at the effective lower bound until economic slack is absorbed so that the 2% inflation target is sustainably achieved."
BoC on the Economy: "Economic momentum heading into [Q4] appears to be stronger than was expected…[but] record high cases of COVID-19…can be expected to weigh on growth in [Q1] 2021"
BoC's Full Statement: Click here
Next Rate Meeting: January 20, 2021
The Spy's Take
Millions of Canadians are hanging on the BoC's 2023 rate hike forecast. That's a tenuous strategy if your plan is to lock in "at the right time." A lot of positive things can happen to our economy in two to three years and fixed rates almost always rise ahead of positive news.
Tens/hundreds of billions of dollars of stimulus is still ahead from the Canadian/U.S. governments. That will strengthen the floor under interest rates, suggesting the days of record lows may be coming to an end in this rate cycle.
Interestingly, by the end of 2021 the BoC will own almost 50% of the Canadian government bond market if its current bond-buying (QE) pace keeps up, notes CIBC rate strategist Ian Pollick. Above 50% is the danger zone due to adverse liquidity effects, according to the BoC's own analysis. We wouldn't bet on QE persisting much into 2022, if at all. This "tapering" of Canadian QE could be yet another factor driving higher fixed mortgage rates unless U.S. yields unexpectedly dive again amidst a weaker-than-expected recovery. That said, until the BoC signals a taper is forthcoming, it'll try to prevent a sizable run-up in 5-year yields.
By the time COVID case counts start heading in the right direction and enough people are vaccinated, both of which should happen by spring-ish or summer, say analysts, the market could start pricing in Bank of Canada policy tightening. That will be a signal to investors to take yields higher (i.e., sell bonds). Higher yields mean higher fixed mortgage rates.
There's one other observation worth noting. Notice how government bond yields are no longer downtrending. That's despite the grim economic reality of record COVID case counts and further lockdowns. When bad news doesn't hammer yields, it often suggests the market is gearing up to run in the other direction. That run may not happen for weeks or months (or maybe it will, who knows), but it will happen ultimately.
How to Play It
---

---